Originally posted by cgarb

We are considering a 191 and would love to hear comments from those who have experience with them. So far we haven't been able to see one in person. Are the twin beds the same size as regular twins? They look narrow in the photos and videos. Pros/cons from 191 owners would be much appreciated!
I can tell you a little based on our perspective. We had a small Runaway Rangerunner teardrop. It was bullet proof, but we wanted to be able to stand up (LOL) and the wife wanted some more amenities, etc. We only have a V6 Toyota Tacoma to tow with, so we needed to find something that had the basic amenities and could still be towed with our truck.
OK so my friend has had two R-Pods and recommended them (with the caveat "expect to fix things").
A like new (but used) 2019 191 came up in my area and it had only been used a few times, so we took the plunge for much less than retail. Keep in mind this is our first "real" camper with black tank, etc.
We liked the 191 for the twin beds because you don't have to crawl over each other to get in and out, you have space in the center for the night stand and other things, plus during the day you can use either bed as a sofa if you want. There is that new model 195 with the walk around queen front bed. I like that over this, but it is larger, heavier, and I dont want to buy one at retail price.
The twin beds are not standard twin size, they are 30 inches by 72 inches. We are average size and they are plenty big for us.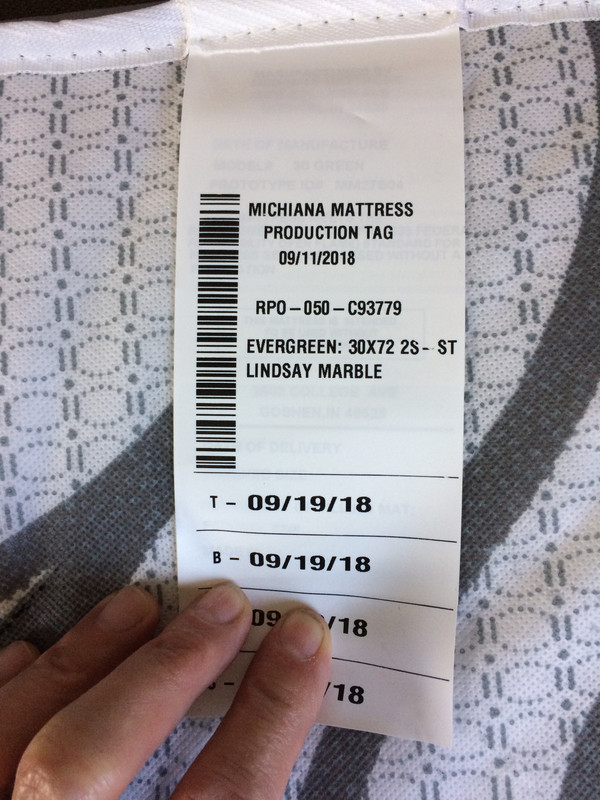 The 191 has a wet bath, however, we haven't used it except for #1 because every campground has had bathrooms with showers and if I'm paying for it, I'll use theirs first. So it's nice to have in a pinch and if it provides more space by not having the dry bath, great.
There is a tiny little "half" wardrobe closet with a mirror over the bed by the bathroom. It's OK I guess but I would rather have something that's not hung on a wall.
Let's see, other than the twin bed configuration, it's pretty much just like the rest. It has the U shaped dinette in the back. With the table in there it's cramped to get to the back side by the window, but it's just the two of us so we just sit on the sides.
The TV is on a swinging mount by the entry door that you can watch from the dinette or swing it all the way out facing the front then you can see it while lying in bed too.
Ours also came with a slide-out outdoor double burner grill. The grill is in the front passenger side cargo bay mounted on sliding rails. It is held in the floor by a pin system and is removable in seconds. I took ours out because we use a little Camplux dual fuel single burner camp stove for outdoor cooking. It takes up much, much less space and having that outdoor stove out opens up the entire front cargo bay in the R-Pod.
In bay stove: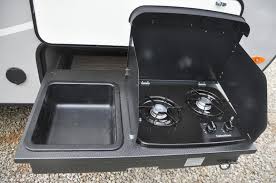 What we use outdoors: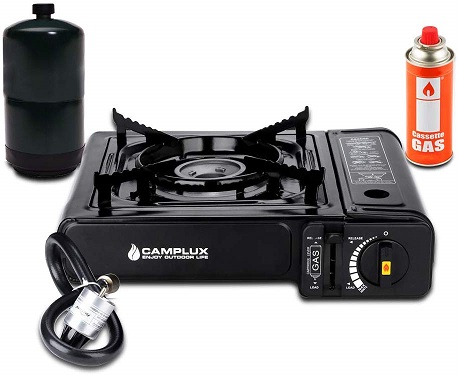 I guess the 191 just depends on your perspective and if you find the twin bed design appealing for access and mobility if you got bad knees, etc.
Having the little Rangerunner we learned to do more in less space and become efficient with making the most of portable camping gear. There has already been a few nights with this one where we kept the slide out in. Everything is still accessible and having the slide out in just creates little hallway between the front and back.
If there's anything else you want to know about it, just ask!