We have a slide cover made from canvas type material. I don't know if it is by Pahaque or not since it came with our used pod. this cover rides in the keder rail overt the slide gutter and is held in place with elastic cords.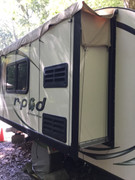 Regardless of brand, it does work and it is a PITA to use. We stand on a short(2') step ladder and from the rear feed the keder end into the keder rail, then move the slide out and clip the elastic cords to the edge. As I said, it works and does keep leaves,sticks etc off the slide roof

the problems are multiple-
when you take it down, any water on top(and there always has been water if it has rained) dumps on you as you pull it off the rail
the canvas is wet if it has been raining and you have to find a waterproof bag for storage so you don't get everything wet

the canvas gets filthy

all of the cords always get hopelessly tangled when storing

I hate to say this, but I would never recommend buying or using this type of slide cover. I would buy a fixed cover tomorrow IF I could get my wonderful wife to agree. so far, that has not happened.
Vann