We reinforced the tv mount on our 179.

the first thing you have to do is remove the tv and it's mounting bracket. then , you separate the tv from the tv mounting bracket. I made 2 pieces of 3/16" metal rectangles that are 9"x14". Put both metal plates together along with the tv wall mount plate and drill them at the same time with the bolt pattern from the tv mount. I put one plate on each side of the wardrobe wall where the tv mounts and also put the tv mount on the outside metal reinforcement plate. Thus, you will a "sandwich" which consists of tv mounting plate, metal reinforcing plate on the outside of the wall and the second metal reinforcing plate on the inside of the wardrobe. I connected them with bolts, washers ,nuts and lock washers that go all the way through the wall, Once you get a metal plate on the inside and a metal plate and tv mounting bracket on the outside, you can tighten everything. this wall in the wardrobe is hollow except for the solid corners. so, you cannot tighten the bolts too much or you will simply crush the wall between the metal plates. Once all of the bolts are as tight as you feel comfortable with, attach the tv to the tv mounting bracket.

here is a picture inside the wardrobe-- you can't see the outside because the tv mounting bracket covers the metal reinforcing plate.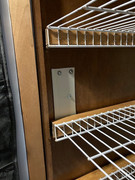 I hope this helps-I know it may sound complicated. Feel free to email with questions

travel safe
Vann