Starting to get into cooking with my cast iron, and this recipe is a keeper for Pork Ribs from this past weekend. It is simple and easy, and just takes some time to hang out by the fireplace.
Ingredients:
1 Red Bell Pepper, 1 Yellow Bell Pepper, and 1 Large Onion all sliced
1 rack of pork ribs, cut individually or to fit in pan/pot
BBQ Dry Rub (whatever you like)
1 good dark beer (I used a Kona Dark) or water if you prefer
BBQ Sauce
Rub the BBQ seasoning into and all over the ribs really good, and set aside for 30 minutes to let it set into the meat. Put cast iron skillet or dutch oven over fire to heat up. Add peppers & onion to start softening up a bit. Place ribs on top, add beer just so that it covers the peppers/onions (for me that was 1/2 a beer so I drank the other 1/2), cover and let it come to a simmer. Keep it at a simmer, moving around the fire, just so that a little steam is constantly coming out. Check it at 1 hour and again at 2 hours to see if you need to add anymore beer in case it is getting dried out, and then every 15-20 minutes after that to see when they are done. After 2 and 1/2 hours mine looked like this: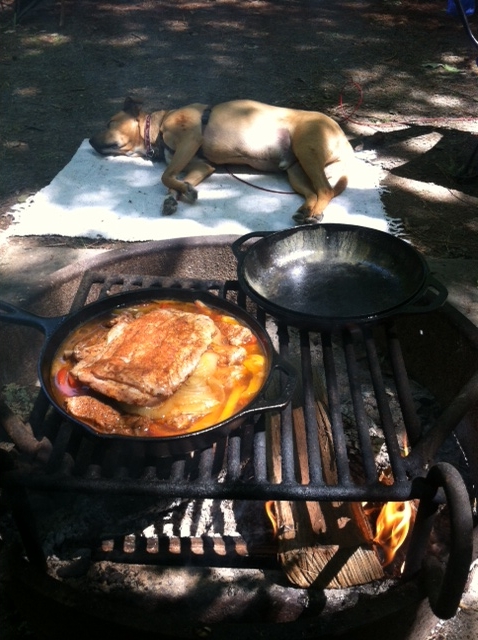 When ready take the ribs out and place them on a charcoal (or gas or wood) grill to get crusty, brushing with some BBQ sauce and turning frequently. Serve with the peppers/onions and whatever else you like. The meat will literally melt in your mouth it is so tender at this point.
Would have posted a pic of the final product, but we were way too hungry and dug in eating them. It wasn't until we were halfway done that I realized I had forgotten to take a final product pic!